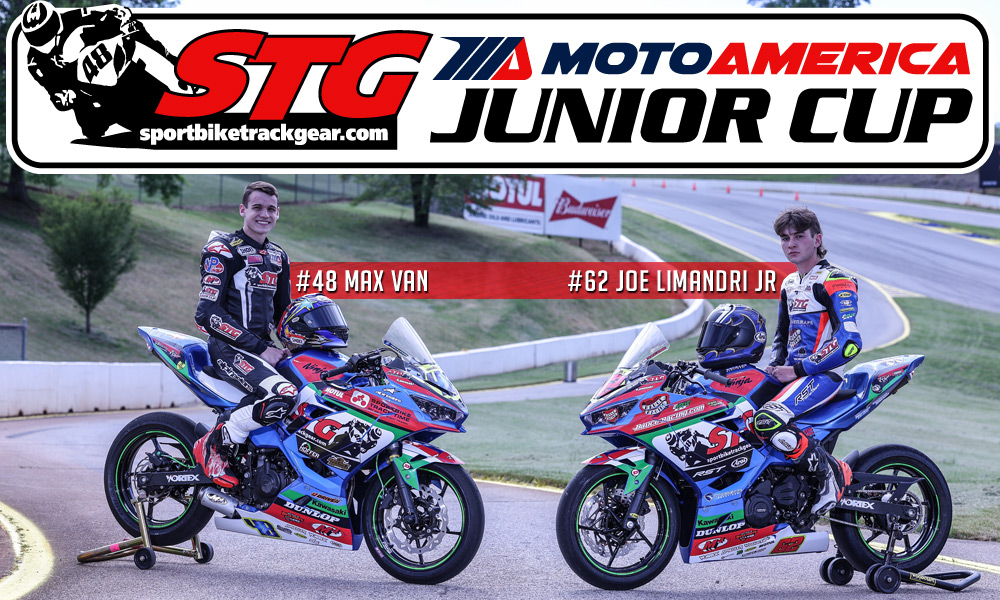 SportbikeTrackGear.com MotoAmerica Junior Cup Road Atlanta Race #1
Our first weekend of the season started off at 8:20 am with Joe Limandri Jr finishing in P1 with a 1:43.918 and Max Van in P2 with a 1:43.989 for Practice Session 1. We were pretty stoked with this result and worked to get the bikes ready for Qualifying 1 later in the day at 4:20. This was a long break giving us plenty of time to get the bikes ready. After some minor changes Max and Joe took to the track for the 30 minute Q1. Max ran a best lap of 1:43.158 in lap 11 for a finish of P2 and Joe ran a best lap of 1:43.539 in lap 8 putting him in P4. Qualifying session 2 was at 8:00 am Saturday morning. Both riders improved on their Q1 times with Joe running a best lap of 1:43.303 in lap 5 and Max running a best lap of 1:42.392 in lap 12 of the session. The grid was set with Max staring in 3rd (his first front row MotoAmerica start and Joe starting in 6th completing the 2nd row.

The race was the most exciting of the day with both Joe and Max racing in the lead group for the entire race getting a ton of TV time. The race ended with Max in 2nd and Joe in 3rd separated by less than 1 tenth of a second. This was Joe's 4th time standing on a MotoAmerica and Max's first. Having spent the last couple of decades at the track this day is bar none the best one! Having our riders BOTH finish on the podium was the perfect way to start the season.
SportbikeTrackGear.com MotoAmerica Junior Cup Road Atlanta Race #2
For race 2 both of our riders were off to a great start with Max Van running out front for the majority of the first half and Joe Limandri Jr spending sometime out front around the halfway point. With a ton of lead changes and an 8 rider battle at the front this race was shaping up to be better than Race 1. By lap 7 Max ran the fastest lap of the race running a 1:42.184 with Joe battling for position up to the front at times. By this point it became clear that the #31 Kayla Yaakov was the strongest rider on the brakes into turn 10a which is a key corner at Road Atlanta. This turn would prove to be the key to Race 2 in more ways than one.

Max led the majority of the last lap until he was passed by three riders in turn 10a by Kayla, Gus Rodio and Cody Wyman. In the final corner Levi Badie highsided making contact with Max and falling in front of Joe leaving him no where to go. This crash cleaned out Joe and Hayden Bicknese (all riders got up and were ok). While we were in Parc Ferme with Max (who crossed the line in 4th) we were talking about the race and waiting to find out if Joe was ok. When we got done talking Max started walking to the trailer when he was summoned to the podium. It turns out all three passes made on Max were done when there was a yellow flag displayed in turn 10. In MotoAmerica there is no passing under a yellow so each of the riders who passed were penalized 2 spots, elevating Max to P1. While this is not the way you want your first Professional Win rules are rules and a win is a win.