Here are some of the riders who we help support and ensure they are in the best riding gear possible. You can also find more information on STG's involvement in racing by visiting our AMA Pro Racing page.
Chris Ulrich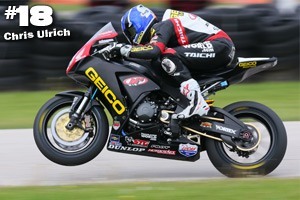 Chris Ulrich competes in Superbike riding his Honda CBR1000RR for the GEICO Motorcycle Road Racing team. Born into one of the most successful racing families in the U.S., Ulrich is starting his 17th year as a professional AMA road racer. Chris began his professional career in 1997 in the 250 Grand Prix and is currently standing in the 11th Championship spot for AMA Pro SuperBike racing.
Also acting as a Team Owner of the GEICO Honda Road Racing Team, Chris Ulrich knows the AMA Pro Road Racing scene like few others do. In addition to AMA Pro, Chris was instrumental in launching the new Superbike Shootout Series that had a successful beginning in 2014. You can also find Chris at the track giving two-up rides to raise media awareness and raise funds for the multiple charities that Road Racing World supports.
Bikes: 2014 Honda CBR1000RR
Sponsors: Geico, Honda, RoadRacingWorld, RS Taichi, Arai Helmets, Alpinestars, Dunlop, HotBodies, Pilot, Vortex Racing, M4 Racing, GoPro, SBS Brakes, Galfer, Bazzaz, Lucas Oil
Jake Zemke
Jake Zemke competes in Sportbike riding his Honda CBR600RR for the GEICO Motorcycle Road Racing team. Jake is the 2008 AMA Formula Extreme Champion, past Daytona 200 and AMA Superbike race winner and is having a number of successful finishes in both AMA Pro and the Superbike
Congratulations to Jake for recently wrapping up the 2014 AMA Pro GoPro Daytona SportBike Championship with a 7th place finish!
Bikes: 2014 Honda CBR600RR
Sponsors: Geico, Honda, RoadRacingWorld, Arai Helmets, Alpinestars, Dunlop, HotBodies, Pilot, Vortex Racing, M4 Racing, GoPro, SBS Brakes, Galfer, Bazzaz, Lucas Oil
Joe Roberts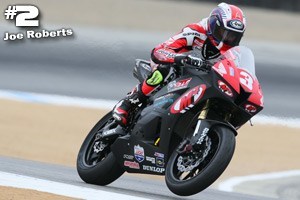 Joe Roberts stepped up to the GoPro Daytona Sportbike class aboard the M4 SportbikeTrackGear.com Racing Honda CBR600RR fielded by Team Hammer for the 2014 riding season. Roberts also competed in the Superbike Shootout Series for 2014 and after three events, tied for 10th in the Championship standings in the Dynojet Pro Sportbike Series.
Joe spent three years riding in the Red Bull MotoGP Rookies cup riding on European tracks at MotoGP events. Last year, only five days after turning 16 he made his AMA Pro debut with Team Hammer at Barber in the AMA Pro SuperSport class where he swept the weekend claiming pole and both race wins. He went on to compete at Laguna Seca and Miller Motorsports Park, ultimately winning all five races he entered.
Bikes: 2014 Honda CBR600RR
Sponsors: Geico, Honda, RoadRacingWorld, Arai Helmets, Alpinestars, Dunlop, HotBodies, Pilot, Vortex Racing, M4 Racing, GoPro, SBS Brakes, Galfer, Bazzaz, Lucas Oil
Chris Broome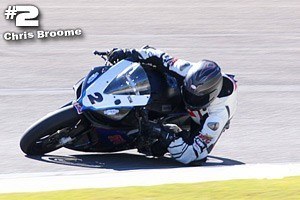 Chris is currently riding several different motorcycles and completes in multiple classes with WERA. He started riding later in life, as he had never sat on a motorcycle of any kind (dirt nor street) until 2007. After a few months of street riding, he started riding on the track and immediately displayed a natural talent for riding a motorcycle fast.
Since then, he progressed quickly and landed on several Podiums as a Novice racer. After only 5 full race weekends as a Novice he stepped up to the Expert ranks and has landed on several Expert Podiums as well. Chris's goal is to race in the AMA and we feel he has the ability to get there. Chris has a strong passion for motorcycles, a good work ethic and loads of potential that will help him succeed at his goals. In addition to racing, you will also see Chris instructing with Sportbike Track Time and Jason DiSalvo Speed Academy track days.
Bikes: 2015 Ducati Panigale 1299S, 2013 Aprilia RSV4, 2010 Yamaha R6, 2010 Triumph 675, 2014 Honda Grom
Sponsors: Livengood Motorsports, D&D Cycles, Sportbike Track Time, Knox Armor, Bell Helmets, Dainese Leathers
Michael Weyant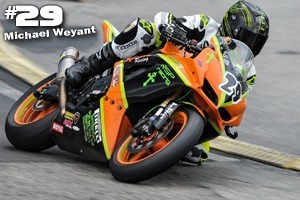 Michael has been riding on two wheels for nearly as long as he can walk. In 2009, his passion for all things on two wheels led him to the track for his first track day and less than one year later he began racing as a CCS Novice #434.
Since that time, he has progressed through the Amateur and Expert ranks under the racing numbers of 434, 43, and now 29 and taking home numerous podiums, an ASRA AM Thunderbike victory, and podiums in class championships. The 2014 season has been exceptional as Michael continues to improve his skills on his RSP Racing Kawasaki ZX6R platform, netting his first expert win and multiple podiums throughout the year.
Bikes: 2013 Kawasaki ZX6R, 2009 Suzuki GSXR600
Gear Worn: Alpinestars Atem Leather Suit, Alpinestars Supertech R Boots, Knox Aegis Back Protector, Knox Handroid Gloves
Nicholas Hande
In 2007 Nick started riding the occasional track days a try but was only able to ride for a short period of time before I had to take a break from motorcycles for a couple years. When he started working at STG he wanted to start riding again so he picked up a 2009 Yamaha R6 and went straight back to the track. Without even a track day to get back in the swing of things, he decided to do my first race. He has now been racing for 3 seasons with WERA and won a bunch of top 5 finishes and a handful of podium finishes.
Nick was able to win the WERA A Superstock Championship in 2013 in addition to drastically improving his body position and lap times. He has set his goals to win another championship this year and compete in the WERA Pro Series in 2015.
Bikes: 2009 Yamaha R6
Gear Worn: Dainese Laguna Seca Evo Leather Suit, Scorpion EXO-R2000 Helmet, Knox Handroid Gloves, Knox Aegis Back Protector, Dainese Axial Pro In Boots, RS-Taichi Undersuit
Allan Doneth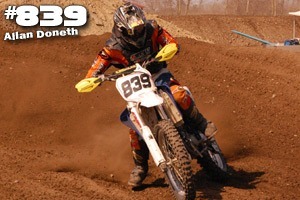 Allan has been riding for over 30 years and have been involved in the motorcycle community his entire life. He raced everything from Motocross, Supermoto, Vintage Motocross, Harescrambles and Flattrack. He was able to get a 9th place finish in the Canadian Supermoto Championship, won one Vintage Harescramble National Championship and also a 10 time Michigan Vintage Motocross State Champion.
Allan is planning on completing in the entire North American Supermoto Championship for the 2015 racing season.
Bikes: 2013 Suzuki RM-Z450 (supermoto), 2001 Yamaha YZ426F (motocross) and 1989 Honda CR250R (vintage motocross)
Gear Worn: HJC Helmets, MSR Gloves, Leatt Neck Brace, ANSR Boots
Bruce Miller
. In his own words Bruce is an old guy that has discovered that he loves a young guys sport. He has been riding since he was five years old, started riding the street when he was 27. Bruce started riding sport bikes a few years later when he was 32 and at the time he was also racing road bicycles and mountain bikes which resulted in four knee surgeries. The surgeries ended his bicycle racing "career" as well as him riding sport bikes for the most part as his knees just couldn't take it.
A few years later, when Bruce was 37 he purchased another street bike to see if he could handle riding. To his own surprise he was actually able to. A year later Bruce started riding the track and found himself hooked. In his first year alone he did around 15 track days and two races. The only goals he held for the races were to not come in last and to not crash, both of which he completed successfully. Bruce is now in his second year of track riding and he continues to learn more every time he goes out there there. Bruce has made many friends and now he cannot imagine life without the track.
Bruce has recently started putting on some local group street rides which seem to be a success and he feels it's great to get out and have fun and try to be responsible and help out others when they ask.
Bikes:09 ZX6R (Track), 13 ZX6R (Street)
Gear Worn:Bell Star helmet, Alpinestars Orbiter One suit, Knox Aegis back protector, Alpinestars SMX Plus boots, Alpinestars GP Pro gloves
Sponsors: Sportbiketrackgear.com and Vortex
David Bumpus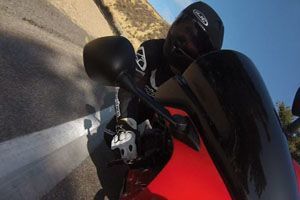 David started riding on the street in 2010 when he purchased a 1981 CB750K while he was living on his own during college and needed cheap transportation. Little did he know that within months he would have entirely rebuilt it and converted it into a café racer—beginning what would soon become a deep passion for riding and racing. Currently, he rides a 2014 R6, and you can find him canyon carving either on his own or with his racing crew as often as his schedule allows in Southern California. Now that grad school is behind him, he hopes to start competing on the track and writing professionally for the motorcycle industry.
Bikes: 2014 Yamaha R6
Gear Worn:Alpinestars Motegi Leather Suit, Bell Star Carbon Race Day Helmet, Alpinestars GP Plus Gloves, Sidi Vertigo Boots, Alpinestars Race Bionic Back Protector.
Thai Long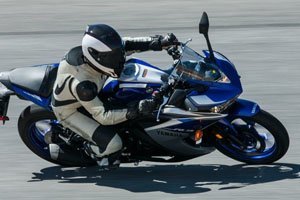 Thai Long Ly is a Music Producer, Audio Engineer and Bassist living in Los Angeles, CA. His chosen profession has taken him around the world and his work can be heard on televisions and radios across the globe. In addition, having been on two wheels his entire life, coupled with his love of all things "fast and twisty", has landed him a side gig as a Motojournalist with Motorcycle.com where he is forced at gunpoint to ride and review new bikes and gear via video and the written word. If you can't find him in the A Room at the legendary recording studio, Bell Sound in Hollywood, he's likely railing through the SoCal canyons on his '14 Street Triple R on his way to Newcomb's Ranch along the Angeles Crest Highway. There you can join him for a bad joke, decent coffee and a breakfast burrito!
Bikes:2014 Street Triple R

Social Media:Twitter: @TL2Bass Instagram: TL2Bass Facebook: Thai Long Ly & Thai Long Ly-TL2 Bass( Artist Page)
Tom Lin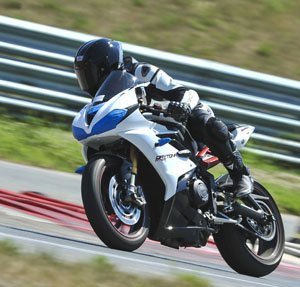 Tom is a sport rider working in NY's garment district as a textile artist who just started getting into track last year. Tom is primarily a commuter as he lives a good hour away from work and dislikes public transportation so it gives him the perfect opportunity to ride his motorcycle daily. Rain or shine, hot or cold, Tom is riding. There is no off season for Tom, the only limit is what the tires can handle.
Riding in this cramped aggressive city has taught Tom two things: 1.Safety and responsibility. That means I'm very much an advocate of ATGATT and hi viz safety gear 2. More importantly, Tom feels that those that ride street should understand that we are representatives for the motorcycling community and need to act accordingly. Being on the street means you are highly visible to the public and what you do sets an image for all of us. Good public perception puts motorcyclists in a positive light, and that eventually means more freedom for all of us.
Bikes: 2014 Triumph Daytona 675R
Gear Worn:AGV Corsa, Dainese Laguna Seca, Dainese Torque RS Out Boots.
Chad McGuigan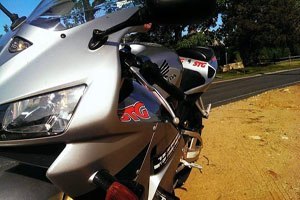 My name is Chad McGuigan, and I ride a 2005 CBR600RR around the south shore of Massachusetts. I started riding just about two years ago at age eighteen on a Ninja 500R, and motorcycles have since consumed my life in a wondrous way. Now at twenty, and on my first supersport, I can't get enough of the twisties, canyons, mountains, or any curvaceous stretch of pavement I can find that isn't too blind. Naturally, I've developed dreams of racing professionally; but I am in school right now at UMass Dartmouth majoring in English Comms with plans of maybe becoming a motorcycle journalist. I'm proud to have been chosen for this sponsorship, and believe in the STG family; they're good people here.
John-Hvizdak
Like many, Johns Dad got him hooked on riding bikes at a very young age. John had a host of dirt bikes growing up, and started riding on the street the day he turned 16, getting my "M" endorsement the same day he got his regular license. Several years went by, and a few close calls (and expensive speeding tickets) later John decided to try out the track in 2012. He immediately got hooked. Beginning in 2013, John started racing with WERA. He loved the racing even more, and earned enough points to get bumped to Expert for 2014. Near the end of 2014, John received the honor to join the 'Control Rider' ranks of N2 Track Days. For 2015, John is in his second year as a WERA expert and has really begun to enjoy the experience of working with fellow riders at the N2 Track Days.
Bikes: 2008 Yamaha R6
Gear Worn:Arai Corsair V, Sidi Vortice,
Dan Dickerman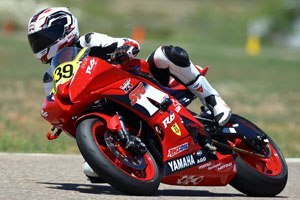 Raised in New Hampshire Dan got his first motorized two wheeler at the age of 16 in the form of a Kawasaki KDX200. Naturally at the age of 18 he got his motorcycle license, and after joining the Air Force, bought himself a Honda CBR600RR. Not long after he went to the race track and so it began; the addiction. Sadly Dan's next duty assignment took him to the (mostly) frozen North Dakota, completely devoid of race tracks, and so he went without a track bike for those couple years. Currently Dan is stationed at Davis-Monthan AFB in Tucson, AZ where he is close enough to four racetracks to satisfy the need. As a post-deployment welcome home present to himself Dan picked up a 2009 Yamaha R6 which he converted into a full-time track duty. He has been racing since April 2014 and doing quite well if we do say. Dan is looking forward to getting his expert license next year and dicing it up some more!
Katie Markel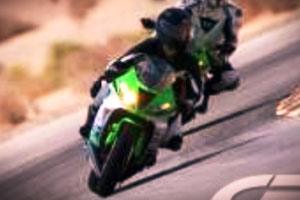 Katie has only been riding since June 11, 2014. Her first bike was a 2012 ninja 250 and has since moved on to a red and white 2012 cbr600rr. In December of her first year of riding she attended Femmewalla track day, finding a new passion for the track she continues to attend track days and schools with the goal to one day compete.
Bikes: 2013 Yamaha R6, 2005 Kawasaki 636
Gear Worn: Alpinestar Stella Anouke Leather Suit, Alpinestar Stella SMX 6 Boots, Kabuto Kamui Helmet, Alpinestar Stella SP-8 Gloves, Alpinestar Jacket
Kenneth Svanoe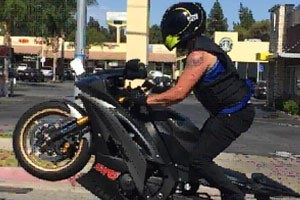 Kenneth is currently 24 years old and lives in Santa Clarita Valley located in SoCal. He has been riding since he was 18 years and it has developed into a lifestyle. Currently Kenneth is a Manufacturing Rep for a few companies along with being a full time student. Along with this Kenneth is currently the Vice President for The Mercenary R/C. He loves to ride and do so everyday whether it's a quick ride around town, hitting some canyons, or going to a closed environment that's safe to practice some stunts. There's nothing more in this world Kenneth would rather do than be on his bike. He enjoys every aspect of riding and what comes along with it.
Stephen Jersey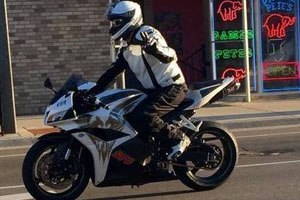 My name is Stephen and I am 28 years old living in Mason MI. I work as computer analyst for Sparrow Health System in Lansing MI. I have a 6 year old daughter who hopefully will be riding her own mini bike soon. I am currently riding a 2009 CBR600RR and only doing street riding but hoping to make some changes soon and get out on a track. This is my 3rd bike (1 crash, 1 sold) now and I am always looking for a new toy to play with. The Triumph Daytona 675R has my eye as my next bike right now. I made it through a pretty bad crash in 2008 where I wasn't wearing the proper gear so I hound people a little bit now to cover up and ride safe. I love the adrenaline and freedom of being on a bike and plan to ride as long as my body lets me. Hope to see you guys out there riding!
Chris Evans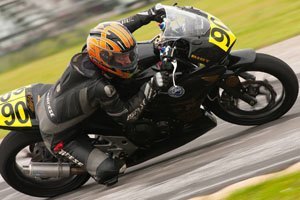 Chris started riding motorcycles a bit later in life in 2010, but quickly fell in love with the sport and developed somewhat of an addiction to owning many different motorcycles. He is riding somewhere almost every weekend be it racing, track days, bike nights, trips to the mountains, or racing minis at the Herrin compound. After a few years of track and street riding he started his first season with WERA in 2015 racing a 2013 CBR500 and a Honda grom in the grom cup. With a very successful season so far he plans to continue racing next year with the goal of moving up to expert.
Bikes:2013 Honda CBR, 2014 Honda Grom, 1989 Honda xr100 supermoto, 2015 KTM RC390, 2006 Aprilia RS125, 2015 R1M, 2006 CRF100
Tony Albaceli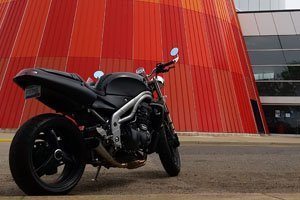 Tony is a former Firefighter currently employed in the auto-industry, also serving as a Michigan National Guardsman and oh, yeah - he is a major motorcycle nut. You might have read some of Tony's stuff if you subscribe to any gun rags as he likes his shooters, too. Tony is A bit of a do-it-yourselfer, he likes to work on his Triumph Speed Triple, and absolutely loves the resurgence of the Café Racer - he has a Triumph Thruxton in the stable as proof. Tony lives in the flattest part of Michigan, and a lot of his time is spent searching for those special far-away places with roads that actually twist and turn, and he is not afraid to road trip to new destinations. Tony likes to share his experiences with like-minds, and I he is relatively new to bikes, so make sure you follow him if you're new, too. Tony hopes to do his first track day soon, and is going to be sure to share the experience with all who have never done one before.
Bikes:2013 Honda CBR, 2014 Honda Grom, 1989 Honda xr100 supermoto, 2015 KTM RC390, 2006 Aprilia RS125, 2015 R1M, 2006 CRF100
Paul James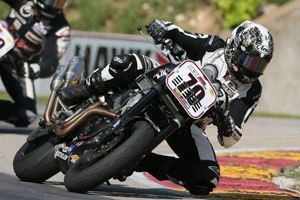 Paul James is an AMA Pro Racing class winner with 3 AMA Pro podiums, 3 top-5s and 4 top-10s (2009-2014). A 7-time CCS Regional Class Champion (2003, 2004, 2006, 2007). A 2-time CCS Blackhawk Farms Class Champion (2006). And a 2-time F-USA/ASRA Team Challenge GT Lights National Champion (2003, 2008). He finished 16th in the Daytona 200 and has competed in the 24-Hours of Willow Springs and the 8-Hours of Daytona. Paul has won 49 expert class races in a road racing career that spans more than two decades. His day job is working in Motorcycle Product Planning at Harley-Davidson Motor Company, and he enjoys life on two wheels, from motorcycle touring, commuting and sport riding to ice racing, track days and road racing. He's been married to his first crew chief (Amy) since 1991 and they have two girls (Faith, 16 and Grace, 14) who grew up playing in the paddocks of Blackhawk Farms, Road America, Gingerman, Gateway, HPT and a host of other race tracks across the Midwest.
Melody Medwell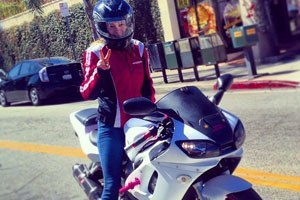 Melody was born in Windsor, Ontario, Canada and lived there until her family moved to Pensacola, Florida in 2006. She had her first two-wheeled experience on her family's German moped on their farm in Windsor, but bought her first two wheels when she started school at Florida State University. Melody quickly outgrew her baby blue Honda Ruckus and purchased a Hyosung GT250r, which she had for the rest of her college career. After graduating with a Bachelors of Science in Biology from FSU, Melody moved to Los Angeles now works in Marina del Rey. She spends her free time at the beach, riding a Yamaha r6 through the canyons, and taking dirt bikes out to the desert with friends.
Ryan Jones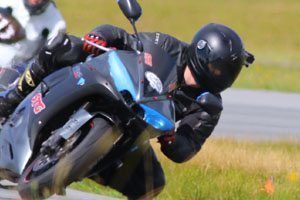 Ryan has been riding motorcycles since he was 17 years old. He started on a 1996 Yamaha FZR600, and soon, knew it would turn into a lifelong passion. Currently, he is on a 2003 Yamaha R6, and has been an avid street rider. He started going to the track this season and knew right away it was something that he will be devoting a lot of time to. He hopes to get into racing in upcoming seasons as he watches his skill level advance at track days.
Bikes: 2003 Yamaha R6
Gear Worn:Scorpion EXO-500, Speed and Strength Triple Crown Race Suit
Thomas Garcia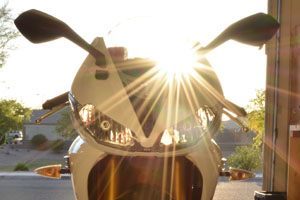 Thomas first started riding while stationed at Mountain Home, Idaho in 2006 on a Yamaha YZF-1000R Thunderace. Originally he started riding because it was a cheaper alternative to fillling the fuel tank on his SUV. Unfortunately Thomas crashed on his 'Ace in 2008 and after doing a tour in Korea from '08-'09, he jumped on a 2008 Triumph Daytona 675 and has since fallen in love with the Triumph brand. "I do everything on my Daytona since it's my only mode of transportation. I commute everyday, take "spirited" rides in the mountains and take it to the track. I wish I could do the latter more often." In January 2013 Thomas was involved in another accident this time with an inattentive driver, which caused his '08 Daytona to be totaled! It shook him up but by March Thomas was back in the saddle on his current ride, a 2013 Daytona 675R.
Thomas is the Motorcycle Safety Representative (MSR) and has always used his experiences to educate other riders. Thomas preaches ATGATT(All The Gear All The Time) and always suggest sport bike riders do a track day to get their speed fix, hone their skills and to push to know their true riding capabilities so they can learn from their mistakes.
Bikes: 2013 Triumph Daytona 675R
Gear Worn:Arai RX-Q helmet, Hearos earplugs, Aplinestars SMX-Air Flo jacket, Fieldsheer Paddock II jacket (winter gear), RS-Taichi WRX gloves, Sliders Cold Pro gloves (winter gear), Forcefield L-2 back protector, Shift Racing Torque Kevlar jeans, Fieldsheer Mercury pants (winter gear), Forcefield knee limb tubes, Forma Ice Flow boots, Shift Racing Vertex suit
Matt Zanni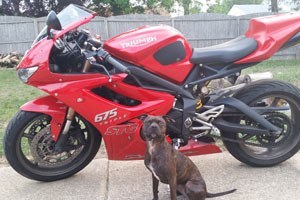 Matt is a design engineer by trade, but is the first to admit he would much rather be on the bike than in the office any day. He has been riding for the last 5 years or so and have amassed thousands of miles from leisurely cruising the boardwalk to aggressive rides in the mountains, and of course, a few trackdays thrown in when he can. Matt is currently riding a 2009 Triumph Daytona 675 with the occasional joyride on his girlfriend's 2009 Kawasaki 250R, both of which are tremendous amounts of fun.
Bikes:2009 Triumph Daytona 675
Gear Worn:Shoei RF-1200 helmet, Sidi ST boots, Scorpion SG3 gloves, and AGV Sport jacket and pants
Donald Deckling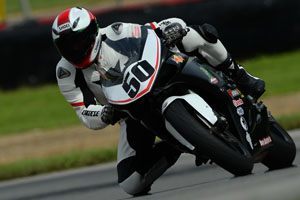 Donald has been on bikes all of his life. When he was young he dreamed of riding a Ducati on some famous track and about 5 years ago, he finally did it at Mid-Ohio on his 2001 996. Donald fell in love with track riding and jumped in head first by purchasing a track dedicated 848 and has never once looked back. Donald takes any chance he can get off police duty so that he can head to the track. Recently Don rode at VIR and managed to take his first tumble in turn 1 and in his opinion the stickers are true, crashing sucks. He has been dancing around the idea of starting real competition soon and maybe we will soon see him chasing the checkered flag, but until then Donnie can usually be found in the lower paddock at Mid-Ohio enjoying the track with his friends.
Bikes:2009 2008 Ducati 848, 2013 Ducati Hypermotard, 2006 KTM250sxf
Gear Worn: Dainese suit, Dainese Gloves, Dainese Boots,Shoei helmet and a Scorpion helmet
Hayden Schultz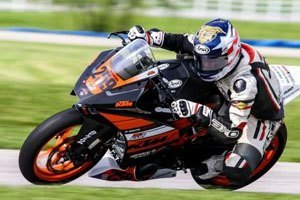 Just having graduated from Hamilton Heights High School in Cicero, Indiana, Hayden is currently living in Gainesville, Florida to train more year round as well as pursue a degree in Sports Management at Santa Fe College. Hayden raced dirt bikes until moving to road racing with the CMRA at the age of thirteen. Hayden bumped himself up to expert mid season in 2011 on a GSX-R600. As a full time expert in 2012 he earned wins and podium finishes in CMRA and WERA races on a Yamaha R6. After turning 16 in 2013, Hayden earned his AMA Pro Racing license and began racing a Kyle Wyman Racing backed XR1200 in the Vance & Hines Harley-Davidson series with a best finish of 4th. For 2014 Hayden raced for Chilipepper Racing, finishing 7th overall in points on his H-D XR1200. In 2015 Hayden will be racing a Yamaha R6 in the new MotoAmerica Superstock 600 class as well as the KTM RC Cup on a KTM RC390
Caleb Davisson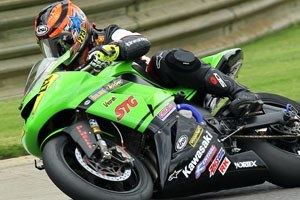 Caleb began riding motorcycles at a very young age. His father traded a couple bags of seed corn for Caleb's very first bike, a 1970 Honda Trail 70. Caleb rode a lot of dirt, including motocross, until 2007 when he got his first sportbike. Since then he has been addicted to sportbikes, owning several Hondas and switching to Kawasaki in 2011 when Caleb bought his current bike, a 2004 Kawasaki ZX10R. Caleb has built the bike from the ground up with the intention of it being a dedicated track bike. Since owning the 10, he has been to several track days and plans to start racing this year with CMRA and CCS. Currently Caleb also rides a 2009 Kawasaki KX450F to better his riding skills, hoping to be competitive in club racing. Caleb is a big fan of Alpinestars, wearing their racing suit and undersuit with Supertech R boots and GP Tech gloves
Bikes:2004 Kawasaki ZX-10R, 2009 Kawasaki KX450F
Gear Worn: Alpinestars Motegi, Astars Undersuits, Astars GP Tech gloves, Astars Supertech R Boots, Arai Corsair V Disalvo Edition Helmet
Kyle Reese
Kyle has been riding motorcycles of one form or another for the past 21 years, progressing from dirt, to street, to track days and now racing. He currently races in the Light Weight brackets in the Loudon Road Race Series in New Hampshire, and has taken podiums in every weekend of the 2015 season so far. When he's not racing you can find him working for Tonys Track days as a control rider, or teaching the MSF class in his home state of Connecticut.
Out of the saddle Kyle enjoy's working out, snowboarding, cycling and hiking with his wife Jen, and dog Ruckus.
Alex Biedenharn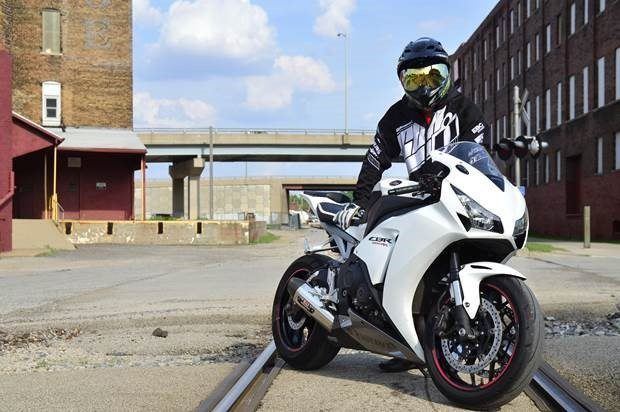 MizShift is known in the motorcycle community for creating YouTube videos ranging from cinematic content to video blogs. He's been riding sportbikes for five years, but gained a lot of his experience from dirt bikes early on. He currently rides a 2012 CBR1000RR that has most of it's millage coming from the streets, but he doesn't shy away from the occasional track day. Being the avid street rider that he is, most of his closet consists of ICON gear with a few pieces of Alpinestars and Cortech gear suited for the track.
Bikes: 2012 CBR1000RR
Gear Worn: ICON Variant, ICON Hypersport Prime, ICON Team Merc, ICON Hypersport Short Gloves, Alpinestars S-MX5 Boots, Cortech Race Suite, Alpinestars SP-8 Leather
TEAM SLO (Jay Powell)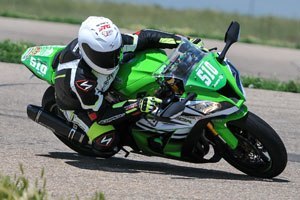 From the track, to the canyons, the local Starbucks and meetup spots, SLO doesn't mind spending time meeting up with others, but he knows as well as any other rider there are times when you just need to ride. Slo has raced in the past, been featured on a full page ad in SportRider, and SSB (SuperStreetBike), gotten on the podium, but still considers himself just another street guy that wanted to see how his moto-skills stacked up against experienced and skilled track junkies. Slo spends a lot of time coaching new track addicts at a smaller local track, and enjoys watching them change into not only better equipped riders, but also watching their opinions change, and knowledge grow. Slo feels privileged when he is able to help locals who request help not only for themselves, but also for their children that are new to motorcycling as well.
Bikes: Kawasaki ZX-10R
Gear Worn: Scorpion EXO-R2000 Helmet, Scorpion Pordium Suit, Scorpion SG3 Gloves
Kris Larrivee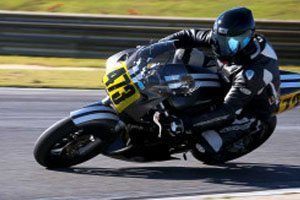 Kris is a rider that knows his way around the track. Riding for 26 years and holder of (at last count) four regional WERA #1 plates and the 2014 National Championship this man is a true expert. After 12 years on the track you are bound to pick up a few things but Kris has taken it to that next level and has truely made a point to follow his passion. When not racing at WERA events throughout the Southeast, Kris can be found expression his passion through various off-road activities on his KDX200 or by writing in his blog "www.speedofarrival.com".
Race Bikes:1989 Yamaha FZR489 hybrid and 1990 Kawasaki EX500 superbike (Kris also has 5 other motorcycles, wow!)
Sponsors:Thor's Evolution Suspension, SportbikeTrackGear.com, Phil Lee Tuning, Bridgestone and Vortex