This project was a ton of fun from start to finish. I have always wanted to build a 1000cc bike to ride on the track and for one reason or another it just never happened. When we came up with the STG Project Bike Concept the stars and planets all aligned perfectly and we went with the 2012 Yamaha YZF-R1. We transformed the stock R1 into a very capable track bike during the 2013 season. It wasn't long before I was turning better lap times on this bike than I had on any other previously which made giving it away a little bitter sweet. The Winner of the 2013 STG Project Bike was James Bryant from Portland Texas.
I bet you want to know how to enter this super sweet giveaway? The First Entry is FREE and as a reward to our STG Customers we serve up one additional entry for every $100 spent with STG during the stated period of the giveaway.
2013 STG Project Bike Announced
This video is where it all started, the big announcement! After much deliberation we decided the Yamaha YZF-R1 would be an excellent choice for our first STG Project Bike Giveaway. To follow this project from start to finish we have included each of the video segments we shot documenting the entire process. We show you what it takes to complete each of the projects from the shop to the street/race track in an easy to follow format.
If you are considering tackling a project on your motorcycle watch the corresponding video on this page and you will find it a helpful tool. Even if your bike is a different model a lot of the information will transfer over quite nicely.
The Stock Bodywork Comes Off The 2013 STG Yamaha YZF-R1 Project Bike
If you are considering taking the stock body work off your motorcycle this video offers a little insight into what is invloved in the process. End of the day removing stock body work is one of those jobs that seems to get more and more challenging with every new generation for each model bike. The best advice we can offer is be patient. Make sure you have all the fasteners removed from a panel before you try to pull it off as it's easy to miss one. If you pull too hard on a panel without all the fasteners removed you could damage the panel.
Armour Bodies Race Bodywork Install on The Yamaha YZF-R1
Armour Bodies Race Bodywork is flexible, fits very well and is relatively easy to install as it typically requires no modification. Most kits sell for around the $700 price, sandwiching it between Hotbodies at our entry level and Sharkskinz at the upper end. Armour Bodies is perfect for the rider looking for a relatively easy install with a paint ready finish right out of the box.
In this video we will take you through the entire installation process for the Armour Bodies Pro Series Bodywork Superbike Kit Yamaha YZF-R1 09-13. If you are thinking of installing a set of race bodywork this video can help you get it done if it's your first time or perhaps teach you a new trick if you are experienced. As you will see the install was straight forward and went just as expected from Armour Bodies. The end result was just right and we would recommend Armour Bodies as the extra money spent will save you time during the install and render a nice finished product.
Grave Link Full Exhaust System Install On The 2013 STG Yamaha YZF-R1 Project Bike
Graves Exhaust and Yamaha go together like slicks and tire warmers! We installed the latest and greatest Graves Link Full Exhaust System on the YZF-R1. Full titanium tubing with carbon canisters and end caps assembled with pure artisan quality. This system fit like a glove, dropped a ton of weight and sounded amazing! Did we mention Graves offers exhaust for all of the late model sport bikes? If you are in the market for a Slip-On or Full System for your bike make sure you check and see if Graves offers a system for your bike.
If you are considering installing an motorcycle exhaust system on your bike take a few minutes and watch this segment for some helpful tips and hints.
Ohlins Motorcycle Suspension Overview With Joe From Witchkraft Racing
Stock Suspension has come a long way over the years. For most street applications there is no need to upgrade until the stock stuff has worn and the ride/performance suffers. Now a race/track bike, well that's a different story all together. Proper, well sorted suspension is the key to good lap times, tire wear and most importantly enjoying your time in the saddle. All that said when we look to Ohlins Suspension for our bikes. Ohlins is the biggest name in motorcycle suspension today and this fact is because they have earned it through many years of proven performance at the highest levels of racing. Watch this video for a little more insight on Ohlins.
Front Fork Removal On The 2013 STG Yamaha YZF-R1 Project Bike
Removing the front forks can be intimidating if you do not have any experience doing it. In this segment we show you the entire process start to finish, don't worry we will show you how to put them back on later!
Ohlins 30mm Fork Cartridge Kit Install With Joe From Witchkraft
For the install of the Ohlins 30mm Fork Cartridge Kit we looked to Joe from Witchkraft Racing for some support. Witchkraft is our partner with the Ohlins Suspension offers installation as well as technical support. Installing a 30mm Cartridge Kit requires a few special tools not to mention a ton experience and expertise. This project is not for everyone, we typically suggest sending the forks to Joe for the install.
The 30mm kit performed flawlessly on the race track. After a little fine tuning during a track weekend at Grattan Raceway in Belding, MI the R1 handled like it was on rails.
Front Forks Get Reinstalled On The 2013 STG Yamaha YZF-R1 Project Bike
As promised we show you how to get those front forks freshly outfitted with the Ohlins 30mm Cartridge Kit back on the bike. Like we said earlier, if you haven't been through this process before this can be a nice guide to help you get your project done.
Ohlins Steering Damper Install
With an Ohlins Shock and Fork Cartridge Kit The Ohlins Steering Damper was next on our list. The R1 comes from the factory with an electronic steering damper. The Ohlins kit was very straight forward to install, worked flawlessly with it's 16 clicks of adjustment and came complete with a bypass for the stock steering damper wiring harness to avoid an unwanted service warning light. In the end Van settled on about eight clicks from full soft for a final adjustment.
Ohlins TTX Rear Shock Install On The 2013 STG Yamaha YZF-R1 Project Bike
Ohlins is the Gold Standard in motorcycle suspension. The Ohlins TTX Rear Shock is the perfect match for the 30mm Cartridge Kit we installed in the front forks. The TTX Rear Shock offers hydraulic preload adjustment, adjustable rebound and compression with the ability to change the length of the shock to alter the geometry of the motorcycle. Having the ability to adjust the ride height easily is needed to help get the bike dialed in as this can affect stability as well as cornering performance.
This video segment serves as a "how to" and help to guide you throughout the process of removing and re-installing the rear shock. Even if you have a different model much of the procedure will remain the same from bike to bike.
Adjusting The Supsension and Setting The Sag With Joe From Witchkraft
After replacing the suspension you need to throw a quick baseline setting into the bike. This is used as a place to start and a point of reference to begin fine tuning from. There are a ton of variables that will go into the final adjustments: riding style, tire choice, race track being ridden etc... In this video our friend Joe from Withchkraft Racing shows you how to find that baseline.
Woodcraft Rearsets Install On The STG Yamaha YZF-R1 Project Bike
When you are building a bike for use on the race track the stock rearsets simply won't do. At extreme lean angles they are just too low and you will be dragging your toes all over the track, not to mention the ergos of the stock stuff are better for the street than performance riding. All that said we chose Woodcraft Rearsets to get the R1 ready to ride. Woodcraft Rearsets have proven themselves as one of the best in the industry. They offer just the right amount of adjust-ability to dial in the ergos to make the bike work for you, each individual part is replaceable in the event of a crash (we are able to get them to you fast to get you back in the saddle) and the price is fair which never hurts.
Woodcraft offers the kit for the YZF-R1 both Complete Kit with and Basic Kit without pedals (requires the use of your stock pedals and saves money). We also decided to add the new folding toe pieces to our kit for a little extra crash worthiness as they fold out of the way to help prevent damage to the pedal. The rearsets looked as good on the bike as they performed.
Woodcraft Swingarm Sliders Install and Pit Bull Stand Gets Adjusted To Fit
At face value installing a set of swingarm spools is simple. Once you have chosen from your standard aluminum or typically larger delrin spools all you need is a little Blue Loctite and you're good to go. We can not tell you how many times we have been at the track and seen someone lose a spool while on track. Debris on the track is never fun but it poses another problem, how are you going to put your bike on the stand when you lost one of your spools! Avoid the drama and use the Loctite.
After the Woodcraft Swingarm Slider Spools are installed we take a minute and show you how to dial in a Pit Bull Rear Stand. Pit Bull makes the best stands in the business and they need to be set up for your bike when you receive them.
Spiegler Rennsport Stainless Steel Brake Lines Install
One of the best ways to extract more performance from any motorcycle is to install Stainless Steel Braided Brake Lines. Stock lines expand under pressure reducing force and feel, the stainless lines reduce that effect dramatically. In this segment we install Spiegler Rennsport Front Brake Lines with the addition of drip-less quick disconnect fittings. If you are considering replacing your motorcycle brake lines watch this video. From installation to bleeding the brakes we take you through the entire process.
Spiegler Brake Lines are available in multiple color combinations for a multitude of bikes. Spiegler has been our motorcycle brake line of choice since the first day we opened our doors.
Removing The Kickstand And Bypassing The Kickstand Switch
Removing the kick stand and wiring around the safety switch is a pretty basic procedure at the end of the day. It is also very important that you take your time and do it right to avoid issues as time passes. Like we said in the video we have seen a poor rewire result in a crash. Don't be that guy, take the time to solder the connection and seal it up properly.
Driven Racing Fuel Cap Install
Driven Racing is on the cutting edge of sportbike hard parts. They release new parts faster than Marquez laps any circuit and their designs are all fresh and unique. We installed a Driven Fuel Cap on the R1 because it looks amazing on the bike and who wants to use a key on the gas cap? Watch this segment to see what it takes to complete the install. Pretty straight forward for the most part, just make sure to route that vent hose properly and you set.
Ballistic Lithium Battery Install On The STG Yamaha YZF-R1 Project Bike
Installing a Lithium Battery is one of the cheapest and easiest ways to take weight off your motorcycle. There is no other modification this inexpensive that helps to shed as much weight. On the YZF-R1 we went with a Ballistic 8 Cell Battery which was actually one model smaller than Ballistic recommended for this model bike. The reason we did this is this motorcycle has all of the lights removed and would only need to power up the basic ignition and fuel circuits. Our Ballistic 8 Cell served us well all season long, never an issue.
Bazzaz Z-Fi TC Engine Management System Install On The STG Yamaha YZF-R1 Project Bike
In our opinion a Quick Shifter is a necessity and not a luxury for performance riding. Considering our need there and the fact we install a Graves Full Exhaust System we decided to install a Bazzaz Engine Management System. Since we were building a kick ass 1000cc track bike we went for the Bazzaz Z-Fi TC Traction + Quick Shift + Fuel Unit as it covered all the bases in one unit. To increase the ease of use and adjust-ability we added on the Bazzaz Z-AFM Self Mapping Kit, TC Adjust Switch and the Map Select Switch. Our finished product gave us the quick shifter we NEEDED, adjustable traction control and the ability to select from 2 fuel maps while riding!
Installing this level of electronics takes patience, knowledge and mechanical ability. If you are considering installing a system like this watch this whole video to make sure you're up to the task and use it as a guide during the process if you need a little help.
Driven 520 Chain Kit Install On The STG Yamaha YZF-R1 Project Bike
Chain and Sprocket Kit is another must do modification for a track prepped motorcycle. For our R1 we went with Driven Racing 520 Sprockets and a D.I.D. ERV3 520 Chain. Gearing used would range from stock to one down in the front with one up in the rear depending on where the bike was being ridden. One thing you will find with gearing is as your speed increases and you drop time it is very likely your will ride out of your current gearing and have to make a change to make it easier to hold that pace or continue to drop more time. Never be afraid to make a gearing change, you might be pleasantly surprised by the results. Every track rider and racer should transport a range of front and rear sprockets for their motorcycle along with the tools needed to make changes at the track.
A chain and sprocket kit is also a great mod for a street bike, another inexpensive way to improve performance and up the fun factor. Use this video segment as a guide to walk you through the process of installing your chain kit.
Driven Smog Block Off Plates Install On The STG Yamaha YZF-R1 Project Bike
After we installed the Grave Link Full Exhaust System and the Bazzaz Engine Management System on the R1 we noticed that the popping and farting on deceleration really became aggressive. To remedy that we installed the Driven Smog Block Off Plates. This eliminates the fresh air injection system which is the root cause of this issue. If you are using a self mapping system as we are it is important to remove this for that system to function properly.
This project is a bit involved, takes some time, tools and know how. Watch this video to get an idea of what it takes to install the Block Off Plates as the procedure is pretty similar from bike to bike at the end of the day.
Van Rides The 2013 STG Yamaha YZF-R1 Project Bike For The First Time
This video includes some footage of Van riding the 2013 STG Yamaha YZF-R1 Project Bike at Barber Motorsports with another R1 mounted rider Todd at a SportbikeTrackTime.com Track Day in March of 2013. After the laps end he shares his thoughts on how the bike performed over the course of the weekend.
And The Winner Is...
James Bryant from Portland, Texas won the 2013 STG Yamaha YZF-R1 Project Bike. In this segment we have Santa Van on the phone informing Mr. Bryant of his good fortune and fade into him coming up to Michigan to pick the bike up. James and his brother drove all the way up from Texas to pick the bike up. They spent a couple of days with the Team at STG watching MotoGP, racing carts at Kart2Kart, shopping in the showroom (thanks God we needed to make up for giving this bike away!) and then of course the good part, Picking Up The Bike. It was all good fun, James is a deserving winner for sure.
STG Project Bike Update After The Final Rose...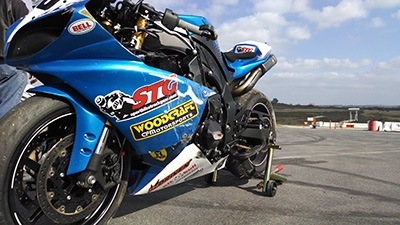 An Update from Our Friend James in TX:The short version: It's as amazing as you think it is, and then some. The highlight of the day was getting to play with some club racers and their 600s which really showed off how light the bike is and how well it turns. It kept right with them on entry and direction changes but after the apex it felt like a bully with the power difference. Made for a ton of fun going back and forth... I was on cloud 9 with a huge grin that still hasn't come off. WHAT A RIDE!
An Update from Van: James let his crazy brother ride my bike (sorry it's I just have a hard time saying goodbye) and he crashed the damn thing.
Note to James: Please do not let your careless brother ride OUR bike again.