Service driven by motorcycle riders that know what you need to fuel your two wheeled addiction. Our experienced team is here to serve you.

Any domestic order (lower 48 United States) over $40.00 ships for free! If your item isn't over $40 but your total cart value is, you'll qualify for free shipping as well! For more information on our Shipping Policies, click here.

Here at STG we want any return or exchange to be quick and pain-free. You can contact anyone here to expedite your return or exchange and we'll make sure it's handled ASAP. For more information on our policies, click here.

Find a better price? If you have we will match it! Call us at 888.784.4327 or submit a request here and our team will make it happen. *Some exclusions may apply.

STG is more than just a site, we are a team of riders who know what is takes to keep you riding. We are big enough to bring you the deals and humble enough to treat you like family. Click Here to meet Our Team of Riders.
***Video Reviews***
So, you like the look and performance of your sportbike but have grown tired of aching back and arms? LSL has the answer for you! Utilizing the same craftsmanship and quality materials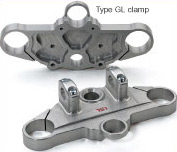 you have come to expect from a top German manufacturer, LSL has developed handlebar conversion kits for nearly all popular sport bikes. LSL is raising the bar!
Most kits include new top triple clamp or adapter, handlebar,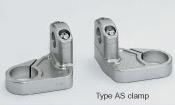 and Spiegler's patented stainless steel braided brake lines. Kits which require them also contain items like clutch lines or cables, mirror stays and other necessary accessories.
LSL superbike handlebar kits include silver bars,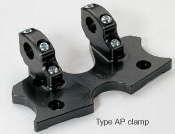 and clear coated brake lines with silver anodized aluminum fittings (when applicable). The kits can be customized to individual tastes by ordering them with color anodized bars or color coordinated brake lines for a additional charge.
Attention: Current generation sportbikes have very tight clearances in the handlebar pocket of the fairing. Modifications to the windshield and/or fairing may be necessary for proper mounting of these kits. LSL superbike handlebar kits are TÜV approved, and have been demonstrated to mount and work properly in the form that they arrive.
Features and Benefits:
Each kit is tailored to the intended application. Unless otherwise noted all bars are silver anodized. The contents of each kit will vary from application to application. Feel free to contact us for more details.
Ready to bolt-on kit. Handlebar ends not included.
| | |
| --- | --- |
| Availability: | |
| STG Part Number: | 9679|Z120Y088|0 |
| Manufacturer's Part Number: | Select an option to see MPN. |
LSL Superbike Handle Bar Riser Kit Review and Install from SportbikeTrackGear.com
LSL Superbike Handle Bar Riser Kit Review and Install from SportbikeTrackGear.com
Other Details
Clamp Type
Top clamp billet aluminum and fully machined
Handle Bar Type
Type LN 1 Superbike low handlebar included with kit
Fitting Notes
New clutch cable included